Knee Products / DDS OA Pro Knee Brace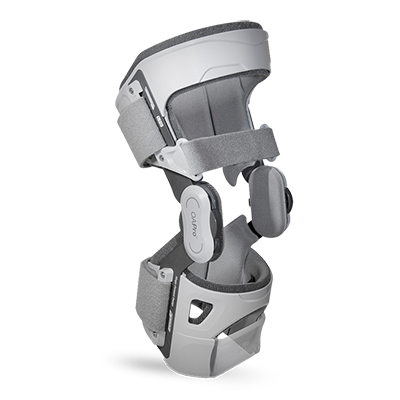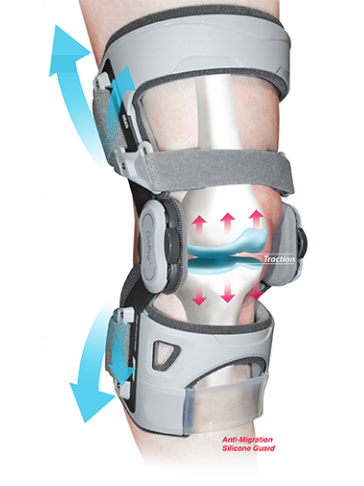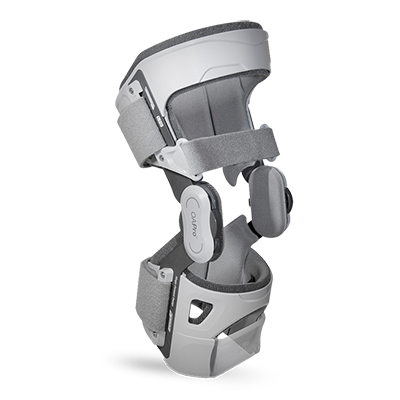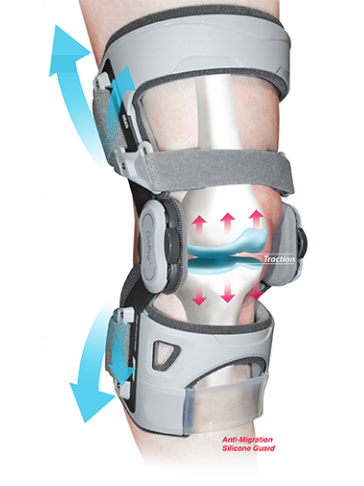 DDS OA Pro Knee Brace
DDS Introduces its 3rd generation OA Knee Brace. It's slimmer, lighter and most effective compared to its predecessors. Its uniquely designed triangular LTS Hinge will help treat moderate to severe osteoarthritis by reducing the load on both the medial and lateral compartments in the knee joint, whereas standard braces only unload one. The innovative Anti-Migration Silicone Guard is also the first of its kind which prevents the brace from slipping.
DECOMPRESSION OA KNEE BRACE
The posterior straps anchors on top of the calf and to the bottom of the hamstring. As the leg extends, the LTS Hinge gently pulls in the opposite directions, decompresses, and unloads the knee joint. This reduction of pressure supports and stabilizes the knee; eases pain and increases mobility.
The DDS OA PRO is the perfect solution for moderate to severe osteoarthritis that requires load reduction to the affected medial and lateral compartments of the knee. It incorporates a uniquely designed triangular shaped hinge to provide decompression to unload two compartments in the knee joint, whereas standard braces only unload one.
Key Features
Unloads both Medial & Lateral Compartments
Universal fit for left or right knee
Slim & Lightweight
Innovative Anti-Migration Silicone Guard
Drug free OA knee pain relief
Indications for Use
Osteoarthritis

Sore joints

Patellofemoral Syndrome

Tendonitis

Knee Sprain

Knee Bursitis
Manuf. Part No.
DDS OA PRO - S
DDS OA PRO - M
DDS OA PRO - L
DDS OA PRO - XL
Size Chart
| | | | |
| --- | --- | --- | --- |
| Size | Thigh Measurement (6" above knee) | Knee Measurement (knee) | Calf Measurement (6" below knee) |
| Small | 15.5'' ~ 18.5'' | 12'' ~ 14'' | 12'' ~ 14'' |
| Medium | 18.5'' ~ 21'' | 14'' ~ 15'' | 14'' ~ 16'' |
| Large | 21'' ~ 23.5'' | 15'' ~ 17'' | 16'' ~ 18'' |
| XLarge | 23.5'' ~ 26.5'' | 17'' ~ 19'' | 18'' ~ 20'' |
Medicare Patients
Contact us with any questions about bracing or eligibility. We'll make it easy for you. We'll even handle the paperwork should you qualify.
Non-Medicare Patients
We are in-network with over 70 private insurance, workers' compensation, and no-fault insurance companies.
Providers
Send us a referral and we will make sure your patient receives the right brace – fast. Our staff of professionals are on-hand and ready to serve.
Our Team of Professionals Fit & Train NY State Patients
Our team of certified orthotic fitters and chiropractors will go to your patients home for one-on-one fitting and training. We offer this service for all the products we dispense in NY State.
Our goal is to ensure your patient understands how to safely use the medical equipment they were prescribed. This means any time your patient needs more information or a refresher, a team member will be there to help.
Do you need fast, reliable delivery of DME products for your patients?
Elite Medical Supply is located just outside of Buffalo, NY and has proudly served NY State since 1998.
Our team supports chiropractors, private practice physicians, orthopedic surgeons, orthotists, pain management groups, and many other types of healthcare practitioners with high-quality DME products.
All of the staff is extremely helpful. Quality of product and business practices make it easy to do business with them.
Robert Dudzik
Great products for helping injured spinal patients through rehabilitation with chiropractic care. Highly recommended.
Office Caprow
Elite Medical Supply helped me with my knee brace that could not be located anywhere else near by. Kind people and very helpful.
Crystal Herberger
The quality of the braces have been excellent. They are a great asset in helping my patients obtain equipment to improve their health and speed up their recoveries.
Thomas Taylor
I have been working the Elite Medical for over 5 years. I have to say that of all the DME providers I have worked with in the past Elite by far is the best in this business.
Seth Blocker